Seasonal Staff
Our seasonal staff come from all over the country to live, work, and play at Burgess and Hayward. With their community spirit, environmental stewardship, and range of outdoor skills they are ready to warmly welcome and guide your group through an unforgettable experience!
Abby
Outdoor Education Guru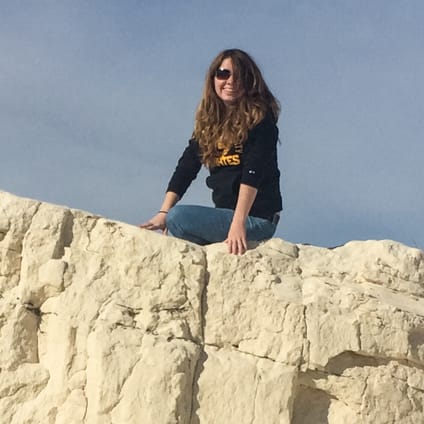 Hey y'all! I was born and raised in tiny Mason, Texas where I spent my childhood digging in the dirt and climbing every tree I could. When the Texas summers got too hot to be outside, I'd spend hours drawing in the sweet, sweet air conditioning. I recently graduated with degrees in both art and political science and am looking for a refuge from the scorching Texas heat, and Cape Cod looks like a beautiful hideout! I've written content for a software company, mixed clay for ceramics classes, and wrangled toddlers at a daycare, so I'm very excited to add more miscellaneous skills to my repertoire. In my free time, I enjoy a quiet day with my sketchbook, some good Tex-Mex, and a nice rain shower. I'm looking forward to an exciting adventure this year on the Cape!
Angela
Outdoor Education Guru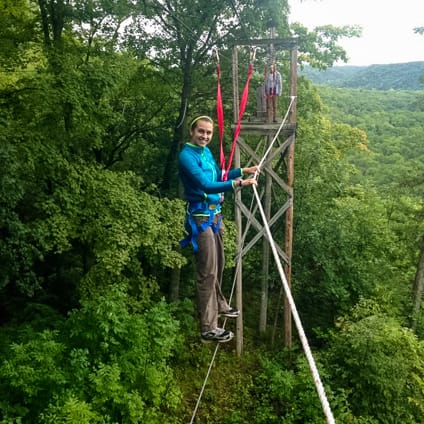 Hello! My name is Angela and I am from Madison Heights, Michigan. I graduated from LSSU (in the upper peninsula of Michigan) in 2015 with a degree in Conservation Biology. For my senior project in college, I created a 4-H summer nature photography camp for kids and that in when I decided I wanted more experience in outdoor education. Soon after I graduated, I moved to Minnesota to work at Eagle Bluff Environmental Learning Center for a year. Following my year there, I moved back to Michigan and worked on a small organic farm for 3 months. Every experience has introduced me to new areas and new friends. Some activities I enjoy are playing sports, getting artsy, reading/buying books, investing in my faith, taking photos, writing letters/cards, listening to music, being in nature, traveling, eating/baking/cooking food, spending time with family/friends, and gaining new skills. I am very excited to live on the EAST COAST and explore all it has to offer!
Ariel
Kitchen Guru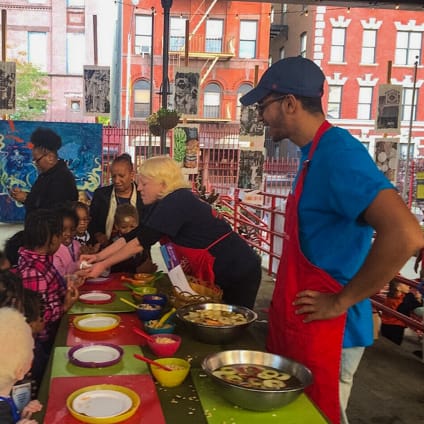 I'm from Valley Stream, NY, and I recently graduated from CUNY Baruch College in Manhattan. During my time in school I worked in different parts of NYC and Long Island, and I spent a summer working in upstate NY. My interest in food led me to my first job working with kids. Cooking with kids is such a fun and rewarding activity that it's hard not to love your job. There are always lessons to be learned in the kitchen and kids definitely have something to offer. My hobbies include playing soccer, listening to music, riding my bike, and cooking. If I could travel anywhere, I'd go to Mars. If I could have a super power, it would be the ability to fly. If I could be a kitchen gadget, I'd be a can opener that works. If I could have a meal with anyone, it would be with John Muir. And if I could live in a particular era, it would be the Jurassic period. I am a Tottenham Hotspur, Knicks, Mets, and Red Sox fan.
Jennifer
Outdoor Education Guru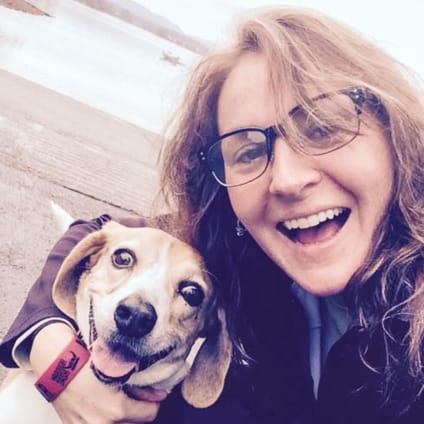 I recently moved back to Massachusetts after living in Arkansas for 13 years. Arkansas is known as the Natural State. With that said, spending time outdoors year round is the thing to do! This way of life led me to pursue a career in the outdoors. I enjoy working out at the gym. I love group fitness and participate 3 days/wk in a HIIT class. HIIT stands for High Intensity Interval Training. I also adore spending time with my dog, Cleo. She is a 3-legged beagle. I have had the opportunity to travel to London, Paris, Athens, Rome, Venice and Dublin. I feel very fortunate to have had those experiences and I learned a lot through my travels. Climbing the Acropolis in Greece and touring the country side in Ireland are two of my fondest memories.
Jenny
Farm Guru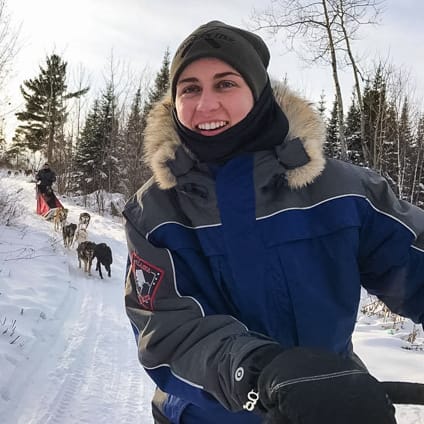 I grew up in the state of 10,000 lakes so I'm happy to be surrounded by water here at Camp Burgess. As a child, I was occupied for hours finding critters to put in my bug box, and later in life focused my fascination with nature by studying Environmental Biology at the University of Wisconsin- La Crosse. Sharing my love of the outdoors with curious minds is something that will always bring me joy. I am looking forward to expanding my knowledge in agriculture this year on the Burgess Farm! My previous farming experience was in the varied climates of Zambia, Hawaii and Minnesota. I am preparing for the challenges that Cape Cod soil are about to bring me. In my free time I enjoy many endurance activities including running, biking, paddling, hiking and dog sledding. This spring I adopted a retired sled dog named Jump. If I could have any super power it would be the power to be comfortable in any temperature/weather.
Joey
Outdoor Education Guru

How's the form?! My name is Joey and I'm not from these parts. Having grown up in the rural outskirts of Dublin city in Ireland, I quickly learned that I'm more comfortable climbing trees and wading through ditches then I am most other places. Being just as fascinated by people as the natural world they inhabit led me to studying anthropology in college. Combining them both set me out on my travels. I've been on the road on and off for 5 years and have wandered through over 30 countries in that time. I first came out to the Cape to work 7 years ago and I'm incredibly excited to be back. Spending time with youngsters in this cracking natural environment teaching and learning, is less a job and more just a good time. This past year has seen me trekking to Mt. Everest base camp building an eco hostel on a Cambodian island, teaching English to Buddhist monks in Northern India and bush-whacking my way through the Peruvian amazon. I can't wait to see what's next.
Kaylie
Outdoor Education Guru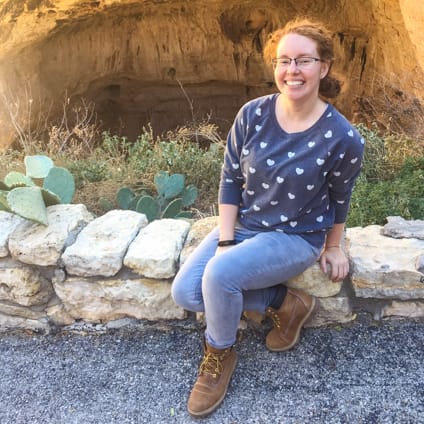 I'm from Waco, Texas, which always makes the news for the wrong reasons. I have never made the news, for wrong or right reasons. Having graduated in December after studying Spanish and art, I am looking forward to seeing places other than Texas, and Cape Cod sounds like a nice first stop! I'm always reading or doodling something, usually someplace warm, like the surface of the sun. No place can truly call itself civilization without a good bookstore.
Rebecca
Outdoor Education Guru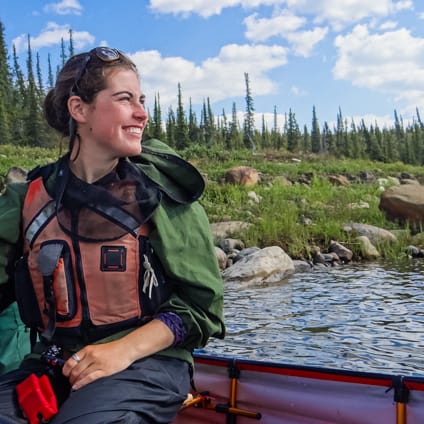 Hi, I'm Rebecca! I'm a proud Minnesotan, though I did travel south to Iowa for college. I'm excited to expand beyond my midwestern roots and explore a beautiful new area! My interests include crafts, dogs, and Ultimate Frisbee. You can also find me cheering on my favorite baseball and hockey teams. I've spent the last several summers leading canoeing and backpacking trips, and I try to spend as much time outside as possible. Nothing makes me happier than playing outside and learning from the world (and people!) around me!
Sean
Outdoor Education Guru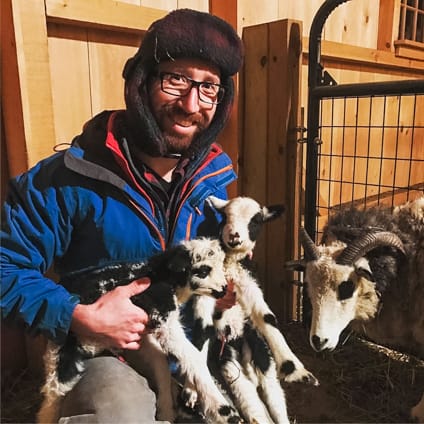 Having driven across the country to be here, Sean was born in Southern California to a family of gerbils. He first got really interested in working in experiential education while teaching kids to sail at a camp on Catalina Island, where he saw the light of inspiration and an unbridled joy for marine biology in the eyes of a kid. Seeing that wide-eyed gaze constantly brings a new hope to Sean's heart that kids will find a passion for all that nature has to offer. When he's not wrestling pebbles, you can find him reading a book, sleeping like a bat from the branch of a tree, or riding his alpaca Ricardo into the sunset. If Sean only had one form of travel, it would be on the back of a mola mola.
TJ
Maintenance Guru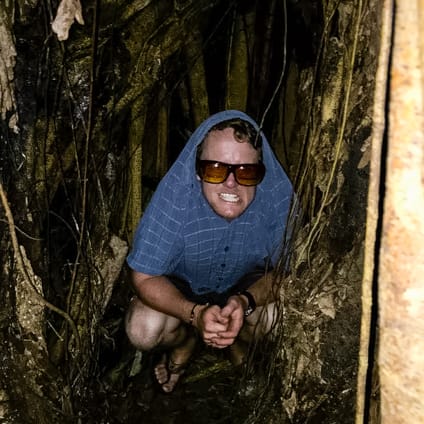 I grew up in Collegeville, Pennsylvania and spent my childhood playing sports and causing mischief. Young TJ was described by a number of educators as "a handful." I was a high energy kid who craved adventure and discovery, and will forever remember my 6th grade outdoor education trip as one of the highlights of my time as a student. In high school I started entertaining career options besides pro-athlete, and settled on filmmaker. I went to college for Film Production with a focus in Stop Motion
Animation, and had a ball playing ultimate frisbee at the national level. I had a brief stint working on feature film sets before deciding to put my cinematic aspirations on hold to make a living as an outdoorsman for a while. Since then, I have lived in seven different states and worked as a guide, trail-builder, educator, landscaper, farmer, high ropes facilitator, maintenance dude, and dog musher.
Burgess Outdoor Education is the first job I have ever returned to for a second season and I am extra stoked to be back. I love seeing how excited the youngsters get when they're rompin' around this wonderful place.
In my spare time I like to make stuff out of wood, ski, climb, play knockout, and rideocean waves in a variety of craft. I love to work with dogs and one of my greatest wishes is to someday have a team of Alaskan husky sled dogs.
Tyler
Outdoor Education Guru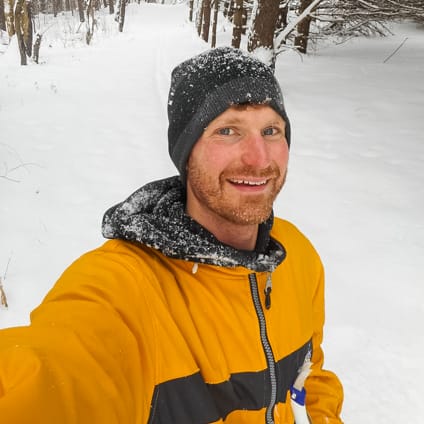 Greetings! I'm a born and bred Michigander from the sandy shores of Lake Michigan, where I learned to love both the woods and the water. Since finishing college in Michigan in 2013, I went on for yet more college in Idaho, fruit-picking and van-tramping in Australia, leading canoe trips in Wisconsin, and sailing on a tall ship in New York. I'm excited to be joining Camp Burgess as an OE guru to spend some time living and working where the water is salty and the sun rises over the ocean. I love hanging out in the outdoors and showing people the curiosities of the natural world that lie at our doorstep. You're apt to find me looking for salamanders under logs, foraging for berries in the woods, or out riding my bike.